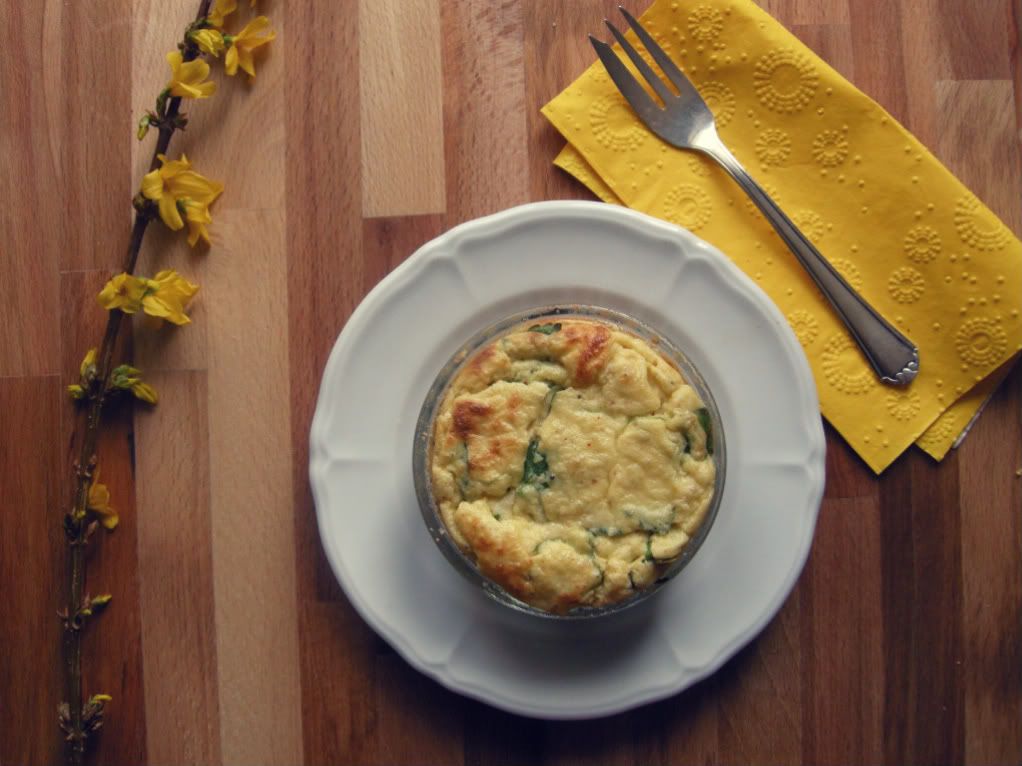 All I could think of the last days was soufflé. I never made one before, and I think I only had one once, and can't remember how it was. But I just love the idea of a soufflé, what it stands for in my imagination. I imagine that only really fancy people make soufflés, the ones who also have tea parties and wear hats. Or something like that. And while I thought it was a bit over the top to make a soufflé out of humble hummus, I just could not stop thinking about it.
I was a bit afraid to make a soufflé, though. I was afraid of failure, having heard that they are a bit difficult to get right. It felt a bit uncomfortable, moving into new territory. I'd love to think of myself as being a fearless cook, but I'm not. I have many insecurities in the kitchen. I don't know how many times in the past weeks I have said that I would love to try this or that, but don't because I am afraid of it. Afraid of failure. As if the cooking gods would come down to punish me if I end up making an imperfect soufflé.
I think the result was worth the risk, the nervousness, the sweaty hands I had as I stood in front of the oven, waiting for the magic to happen. And it happened, the soufflé rose nicely, but I guess I took it out a minute or two too early. It lost some of it's height. No cooking god came down to punish me, and the soufflé really tasted great. I think I can safely say that it was one of the best things I cooked so far. But perhaps that is just the feeling everyone has after conquering a fear. The hummus flavour did not come through much, but all the flavours combined with the lemon zest, and the light texture made me want to sing. I have that urge when I'm excited about something.
A picture of the not perfectly risen soufflé. I think it is pretty, anyway.
Hummus Feta Soufflé
Adapted from
this recipe
by Ottolenghi, found via
butter-tree
.
45g hummus
10g pecan nuts
20g butter
8g all-purpose flour
80ml milk
1 egg, separated
40g feta, grated
pinch of salt
a handful of greens, I used half parsley, half watercress
zest of about 1/4 of a lemon
Preheat the oven to 200°C/400°F. Place a baking tray in the upper part of the oven. Ottolenghi suggests on the top rack, but I had troubles seeing whether the soufflés were already browned on top or not, and then ended up underbaking them a bit.
Prepare the hummus according to your recipe, or to the
Bittman recipe
Erin posted for this weeks
Food Matters Project recipe
. It will make more than you need, but I think you won't have any troubles finding a use for it.
Measure out all the ingredients, I highly recommend using scales here.
Pulverize the nuts in a food processor. Melt half of the butter and brush two ramekins with it. Divide the nuts, spoon them into the ramkins and turn and shake until the sides are coated. Place in the fridge.
Heat the rest of the butter in a small sauce pan on medium heat. Let melt, then stir in the flour and let it brown for about 1 minute. Then add the milk gradually, stirring as you do so. Stir until the sauce thickens and bubbles. You should not have any lumps left, use a whisk if there are any. Set aside to let it cool down a bit.
In a mixing bowl, mix the hummus, egg yolk, the grated feta, and the lemon zest. Add a pinch or two of salt, and some paprika if you like. Stir in the sauce once it is cooled down a bit. Fold in the greens.
Beat the egg white until it is stiff. Add one tablespoon to the hummus to loosen it up a bit, then fold in the rest.
Take the ramekins out of the fridge, spoon in the mixture, do not overfill the ramekins. Ottolenghi suggests stopping 1.5 cm below the rim, but if yours are not as tall, like mine, just don't fill them to the top.
Bake for about 15 minutes. They should be risen well and golden brown on the top. Leave them in a bit longer when in doubt. But the are delicious even when they collapse a bit. Serve immediately.
Serves 1 together with a big salad, or two as a starter.
As every week, check out all the other participants, I bet they came up with wonderful adaptations again.