Today I made the first recipe from the Vegetarian Planet for my challenge. It wanted it to be something quick and easy, something that is just right now that it is getting hotter outside again. I used precooked beets, so the soup came together real quick and I did not have to turn on the stove. This soup could also be made ahead, since it has to be chilled for at least an hour.
I love gazpacho, and this beets version has a lovely purple colour and tastes great. I do not love beets (I like them, but not that much) but the taste of the beets comes through just enough, without overpowering the cucumber.
Now only the weather needs to cooperate, it's raining today.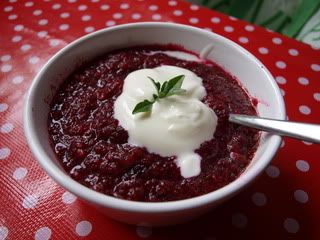 Beet and Cucumber Gazpacho
Ingredients:
2 beets
1 teaspoon coriander seeds (ground)
1 teaspoon cumin seeds
1 red bell pepper
1 cup water
1/2 cucumber
1 onion, chopped
2 tomatoes
3 tablespoons lime juice
1 tablespoon olive oil
3 tablespoons basil
1 teaspoon salt
pepper
yogurt or sour cream
Emmons recommends toasting the coriander and cumin seeds, but turning on the stove just to toast them seems a bit unnecessary to me, so I did not do that.
Peel the cooked beets, cut them and the red pepper in bite size chunks and place them in a mixing bowl. Add in the spices and about half a cup of water, and blend it with a immersion blender (or in a food processor, but I don't own one) until there are no big chunks left, but the mix should not be really smooth - a gazpacho has to be a bit chunky.
Add the beet mixture to another bowl.
Chop the cucumber, the onion and the tomatoes, and place them in the mixing bowl (you can use the same as before). Add another half cup of water. Blend again, the mixture should also be a bit chunky. Add this to the beets mixture, and add in the lime juice, olive oil, salt and pepper. Chop up so basil (I used a mix of red and small leaved green basil).
Chill for at least one hour. Ladle the soup in individual bowls and top with a tablespoon of yogurt or sour cream.