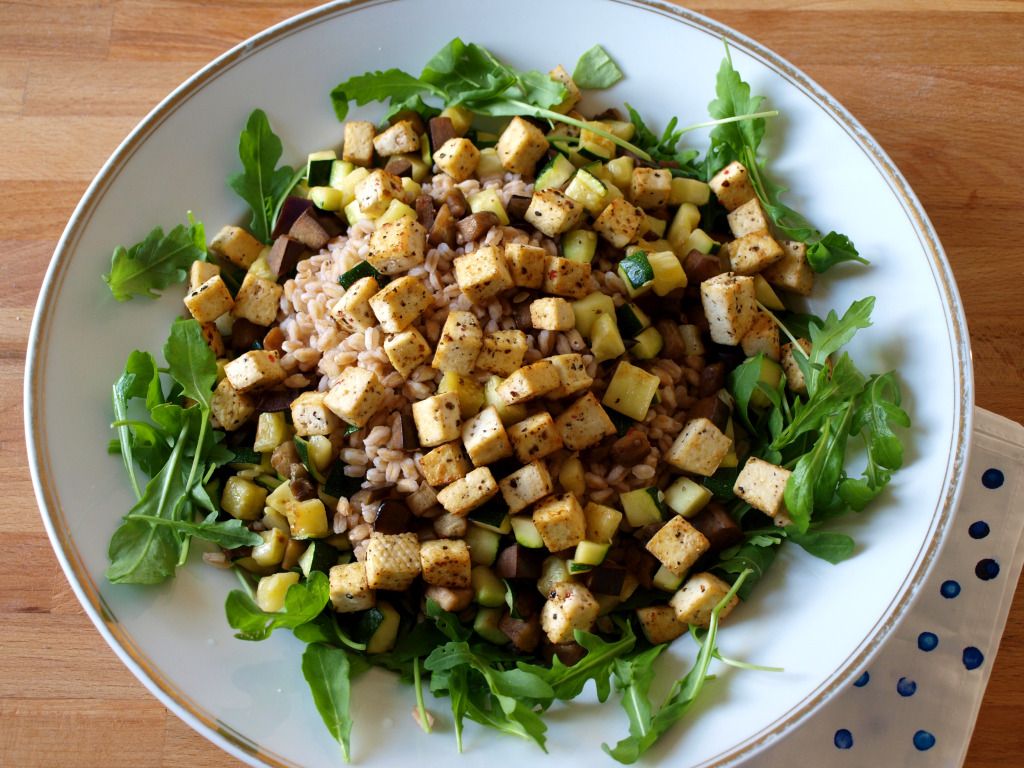 I have the interesting habit of carrying cookbooks with me and reading them like "real" books. And I dont me memoir style cookbooks with one or two recipes thrown in between lots of writing. I love to read recipes, and their discriptions. To look at the pictures, too, but I found myself doing this even with books that have little photographs inside.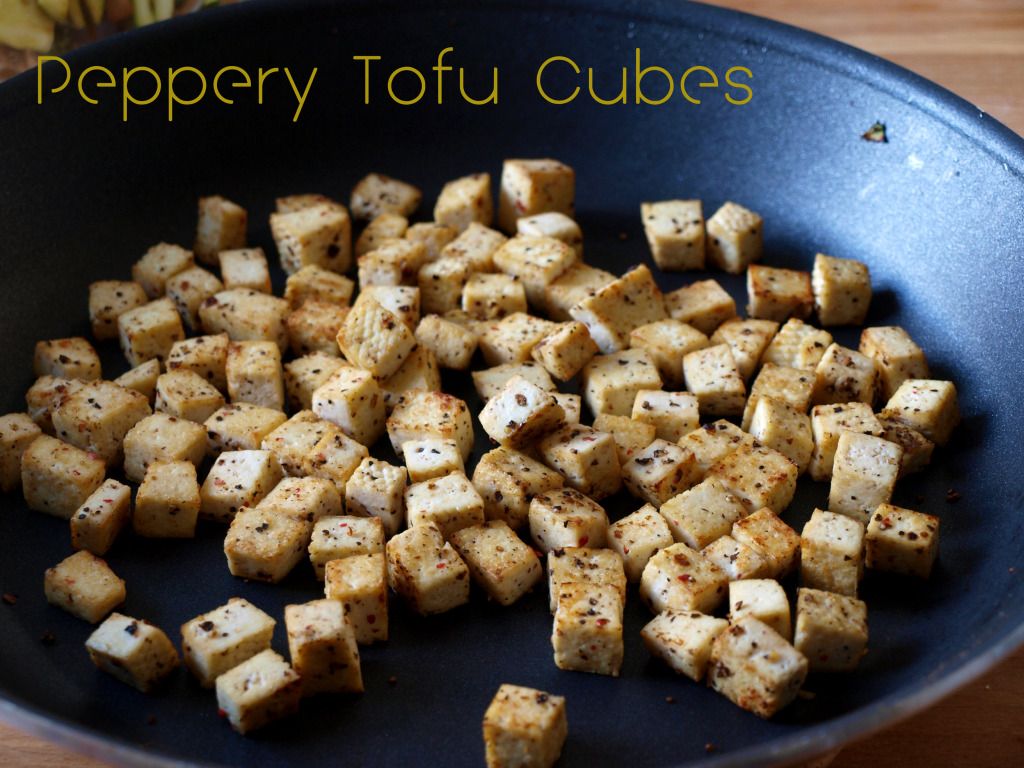 Today I had Isa Chandra Moskowitz' Appetite for Reduction with me, and on my one hour commute to work and back I read the whole book from front to back. Reading cookbooks always leaves me hungry, and inspired, too.
While today's recipe was inspired by Appetite for Reduction, there is no particular recipe that I adapted from it. Rather I was inspired to use less oil in my cooking than I usually do, and I was surprised that it actually really worked well.
Cooking eggplant usually involves lots of oil, it can soak it all up with no problem. And preparing tofu usually involved more oil than I wanted to admit, too. Not anymore, I was really happy how this all turned out and how the resulting salad was that much lighter and fresher than it would have been otherwise.
The leftovers are going to come to work with me tomorrow, just take it out of the fridge at least an hour before you plan on eating it, grain salads are much better at room temperature than cold, IMHO.
Warm Farro Salad with Eggplant, Zucchini and Tofu
250g farro
2 bay leaves
salt
1 small eggplant
1/2 teaspoon canola oil
salt
smoked paprika
1 small zucchini
1/2 tsp canola oil
salt
200g firm tofu
1 teaspoon canola oil
black pepper
pink pepper (optional if you don't have it, but recommended)
salt
juice of about one lemon, add to taste, depending on your preferences
a few handfuls of arugula
Start with cooking the farro in salted water together with the bay leaves according to the package instructions. I use pearled farro that takes 20 minutes to cook, but cooking times vary.
While the farro simmers, dice the eggplant. Heat the canola oil in a larg non-stick skillet over medium heat. Add the diced eggplant and some salt (a pinch or two). Cook on medium heat, adding a a few tablespoons of water as you cook it down until it gets soft. When they are soft enough, add a pinch of smoked paprika, turn again and then remove from the skillet into a bowl. Set aside
While you let the eggplant cook down, dice the zucchini. When the eggplan is set aside, add the canola oil to the skillet, let heat up and then add the zucchini and some more salt. Let brown a bit on both sides. There should be no need to add water with the zucchini, but if you have troubles with them burning on rather than cooking, add a tablespoon or two of water. Once the zucchini is browned and soft, put it in the bowl with the eggplant
Dice the tofu while you cook the zucchini. Add the remaining canola oil to the skillet, let heat up and add the tofu. Add lots of black pepper and a bit of pink pepper. If you are unsure about the amount, go lightly first and add more after tasting. Add a pinch or two of salt and let brown on all sides. To finish it off, drizzle it with a bit of lemon juice, reserving the rest for the farro.
To serve, add a few handfuls of arugula to the bottom of a bowl, add the farro on top, drizzling it with the lemon juice, top that with the zucchini and eggplant dices and sprinkle the tofu cubes on top.