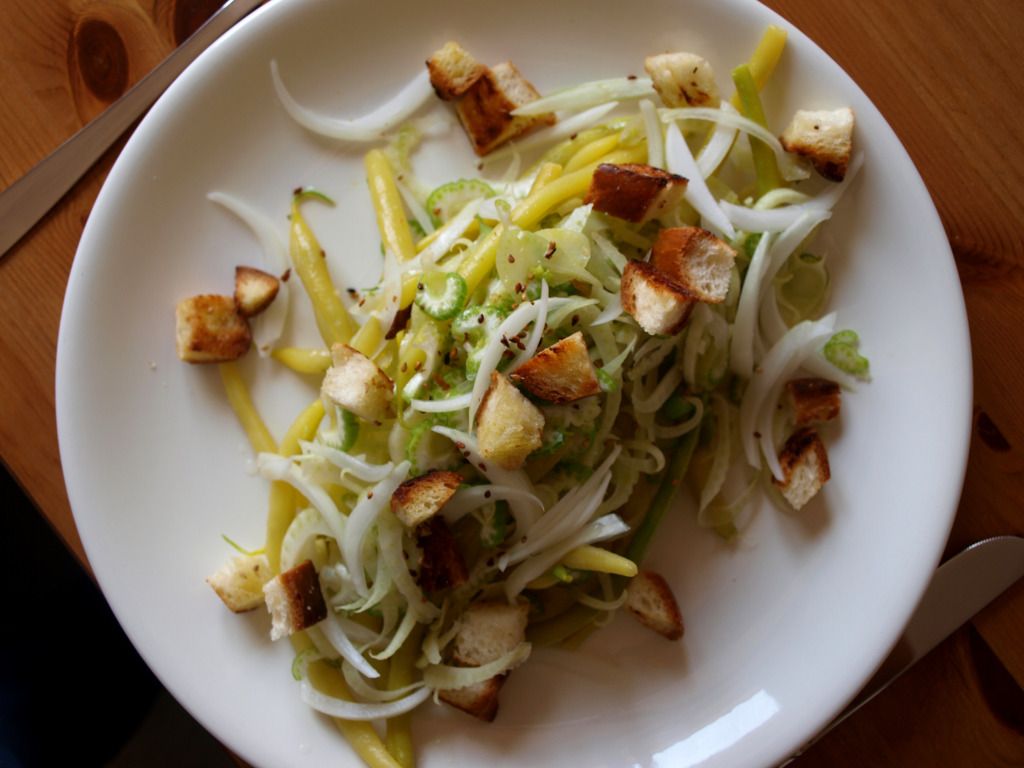 I love to go to the farmers market on Saturday morning. I say that now that I went today, but I don't want you to live with the impression that I go to the farmers market every Saturday.
I would love to be that person, always buying her produce at the same market stand, with the farmer knowing my name and all. But the farmers market conflicts with my sleeping in, and so I don't go too often. I haven't been in quite a while, and when they had plenty of cherries the last time I went, there were none to be seen today. There were grapes instead, but I missed the cherries. I did not buy enough of them while they were here.
So I love to go to the farmers market, and when I do I buy whatever looks best at the market. Today I bought yellow beans (they were called butterbeans) and a few small bulbs of fennel. And bags full of fruit, and tomatos, but these were not featured in this salad.
Lunch on these Saturdays then simply consists of a salad. A simple salad of lots of fresh vegetables, raw or only slightly cooked. I love those saturdays.
I bought these butterbeans at the market because they looked so lovely and creamy, and because of the name. Something called butterbeans sure has to taste great, right? I bought the fennel to accompany the beans in a salad, and only saw back home that Deb from smitten kitchen has shared a
quite similar salad
before.
Yellow Bean Salad with Fennel and Celery
1 small fennel
2 stalks celery (without the leaves)
juice of half a lemon
1/2 pound fresh yellow beans
a few sprigs of
summer savory
(this is a herb traditionally used with beans, you get that for free at the farmers markets in Switzerland if you buy beans, but you can also leave it out, or use thyme or oregano instead)
1/2 onion, or one small
2-3 tbsp white vinegar
1 tbsp olive oil, plus more for the croutons
1 slice of bread, cut into cubes
1/2 tsp sesame seeds (I am obsessed)
Heat a large pot of salted water and bring it to a boil. In the mean time, trim your beans. (I just learned from Deb that you can do that with scissors. Duh!) Cook them for 4-5 minutes, drain them and rinse them with lots of cold water.
Cut the fennel and the celery stalk into very fine slices. I used a mandoline, but a sharp knife will do. Add the lemon juice to keep the fennel from turning brown. Cut the onion into thin slices, put it into a bowl and cover with the vinegar.
In a small skillet, heat 1-2 tbsp of olive oil over medium heat. Add the cubes of bread and pan-fry them until crispy. Add the sesame only when the bread has already nicely browned.
In a large salad bowl, mix the beans, fennel and celery. Add the tablespoon of olive oil, the onion and the vinegar used to soften the onions. Divide onto two plates, and scatter the croutons and the sesame seeds over the salad.
Serves 2.